Skip to Main Content
It looks like you're using Internet Explorer 11 or older. This website works best with modern browsers such as the latest versions of Chrome, Firefox, Safari, and Edge. If you continue with this browser, you may see unexpected results.
INTRODUCTION
Besides being available for scheduled appointments and drop-in hours, you can also contact us online! We understand that you may have other responsibilities outside of your class schedule that may make it difficult to reach out in person. Here are some guidelines, technology tips, and ways to show you how to request help online and what to provide to make a more efficient use of your time.
REQUESTING ONLINE HELP
By E-mail:
By Phone:
If we are not at our desks when you call, we still always return missed phone calls. Also, we do check our voicemail.
Virtually:
TUTORING MODALITY
Below is a chart showing the breakdown of last quarter's tutoring sessions by modality.
WHEN ASKING FOR HELP...
Please provide:
Assignment guidelines:

Attachment, copy & paste, or screenshot

Attachment of your work so far:

Any MS Office attachment, Download from Google Docs as MS Document format, or copy & paste on the body of the e-mail

Rubric of how the assignment is being graded:

Attachment, copy & paste, or screenshot
Please include:
Timeline or deadline to complete

Write this since it may not be included in the assignment guidelines

Details or description of what you need

Write what you want help with such as grammar, sentence structure, or APA citation help.

Notes you may want to include

Write any comments, questions, or concerns
ASK THE ASC FOR HELP!
Need Academic Help? Contact the Academic Success Center (ASC)!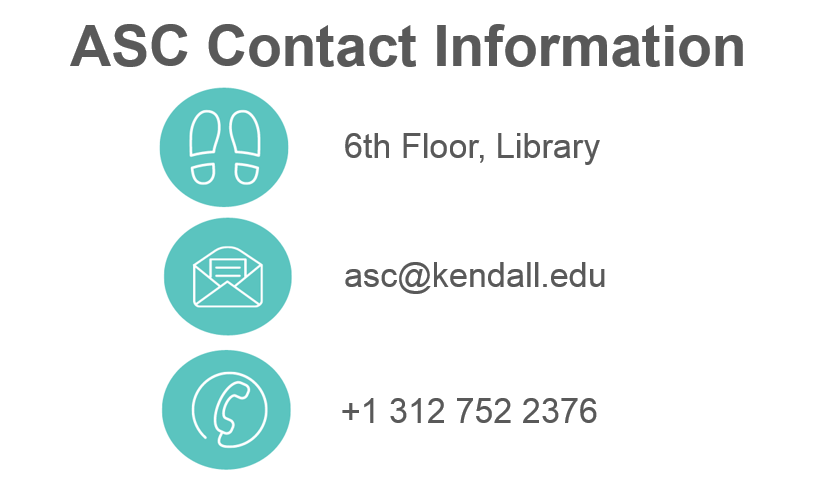 I'M OUT OF TIME!
Here are your options:
View our list of LibGuides by subject and find your answer.

Upload your paper on Grammarly for any grammar and mechanics help.

E-mail or speak to your instructor for a deadline extension.

Accept a lower grade and submit the assignment late .