Skip to Main Content
It looks like you're using Internet Explorer 11 or older. This website works best with modern browsers such as the latest versions of Chrome, Firefox, Safari, and Edge. If you continue with this browser, you may see unexpected results.
INTRODUCTION
Have you had the chance to meet one of our ASC Peer Tutors? If not, don't fret! Our English and Math Peer Tutors have included some helpful advice and resources for you below. In addition, they have reflected on their experience being Peer Tutors in the ASC. We hope you find their tips and advice helpful. Enjoy!
HOW TO GET AN A+ AT KENDALL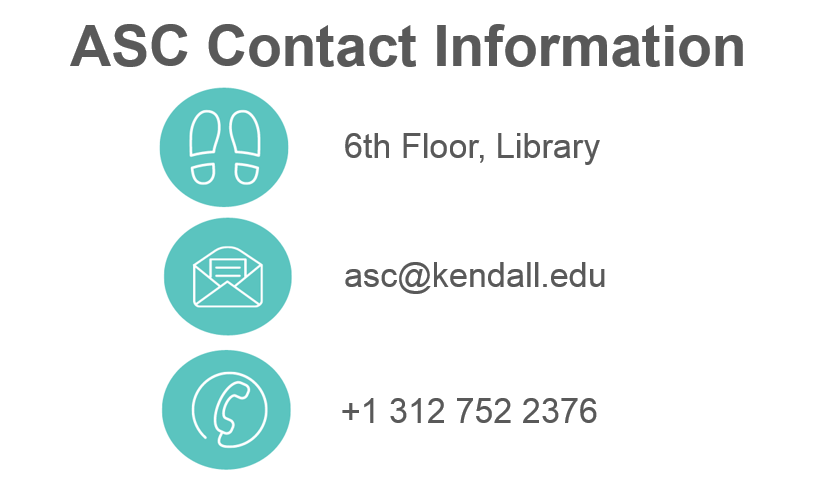 6 SIGNS YOU NEED THE ASC'S HELP
Image created by Peer Tutor Ivy.
PEER TUTOR CREATED RESOURCES
Are you taking MTH 122 (Quantitative Literacy) at Kendall? If so, take a look at these resources created by our amazing Peer Tutor Emily.
Created by Peer Tutor Aashrit.
ASC PEER TUTOR PROGRAM PHILOSOPHY
The Academic Success Center (ASC) Peer Tutors are an important part of the ASC team and the greater Kendall College community. They come highly recommended by faculty and go through extensive training. Our Peer Tutors are committed to seeing their classmates succeed and are eager to give back to the Kendall community.
TO KENDALL FACULTY
"To Kendall faculty: Please listen to the sound track from High School Musical 2006 We're All in This Together and come back to me with your feedback, I want to do a Kendall collaboration video." – Ivy, English Peer Tutor
ASK THE ASC FOR HELP!
If you are interested in becoming a Peer Tutor or getting help from one, please contact the Academic Success Center (ASC). Also, a list of their available times is provided on the ASC Website.